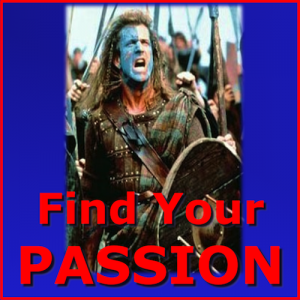 I'm very passionate about passion!
Why?
Because that's where it all starts!
Now, before we go any further and you think I may be encouraging some kind of lustful self-gratifying behavior, let me absolutely clarify that I'm talking about the passion that your Maker put inside you.  It's the unique reason He created you, the thing that drives you, the message you MUST bring forth!!
And when you let this passion flow out of you in the proper way, your Kingdom work is given life.  And not just life, but LIFE with POWER to minister to others, positively impact the world, and glorify our Father in heaven!!
Wait….are you not sure what your passion is and are wondering how to figure it out?  Or maybe you do know, but don't understand how that translates into God's plan.
Well, it's a good thing that MY passion is to help fellow Believers discover and exercise theirs, because that brought me to make this video.
This is the time of year that a lot of people are considering their true purpose.  I hope this helps
you walk in yours.  Enjoy!
(click image to play)
WHAT'S NEXT
As I mentioned above, I didn't stop here.  I also made two more videos in this "Find Your Voice" series.
Then I produced 11 more full-length classes that comprise the 12-week "Share Your Voice" Kingdom Business Course.
In it, we cover everything from how to find your voice, to the Biblical view on business, to how to identify and reach those who want to hear your special message, to even internet and video basics for sharing your voice around the world.  And much more!
Now, I don't just give it all away for free, as this is the work of my hand and what I do to provide for my family, but for 12-weeks of absolutely transformative professional-level training, I've made it a super-affordable investment.  (BTW:  I've found that when I do charge literally nothing for my training, then people tend to value it at "nothing"…and that benefits no one.)
On top of that, ahead of starting up the course again on January 1st:  For a limited time, we're offering it for an even lower, discounted "Early Bird" Tuition price!
If you're interested in learning more about how to be equipped and motivated to Share YOUR Voice, (including the full curriculum, FAQs, student testimonials, and our money back guarantee), then please CLICK HERE now and check out our super-duper info page.
http://Kingdom.consulting/ShareYourVoice
I will be honored to be your Coach…For such a time as this!