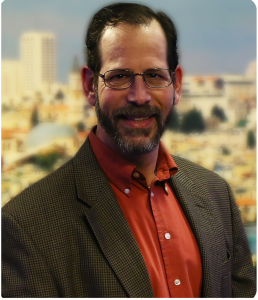 CHAIM GOLDMAN, President & Creative Director, Kingdom Consulting, and Co-Director of Repairing the Breach Ministry.
Chaim is a business and marketing coach with 30 years of experience in all areas of television production. As a professional storyteller and marketing technologist, his specialty is in helping fellow Kingdom-minded entrepreneurs to discover their unique voice and share it through world-impacting business and ministries.
Chaim's 12-week online Kingdom business course, "Share Your Voice," is professional-level training that equips, encourages, and even entertains. It is specifically designed for Christians who desire to serve God completely in their businesses and every other aspect of life.
Along with his wife, Dr. Kim Goldman, Chaim also directs Repairing the Breach, an Isaiah 58 restoration ministry focused on love, holiness, and unity. Together they teach and disciple on the core topics of Ancient Paths, Biblical Health, and Kingdom Business.
Committed follower of Yehovah, the God of Abraham, Isaac, and Jacob
Messianic Jewish Disciple of Messiah Y'shua (Jesus)
Devoted husband and father of six
Kingdom Business & Marketing Coach
"Marketing Technologist"
CEO and Executive Producer of Biblical Health Television
Passionately creative, enthusiastic, out-of-the-box thinker
Leader and collaborative team player
Enthusiastic presenter/public speaker, intensely visual, quite funny
Highly detailed, deadline oriented, borderline-obsessive regarding words and images
Entrepreneurial, motivated and motivating
Schooled and experienced in all disciplines of television production
Student practitioner of Web 2.0/3.0 and online marketing
Sincere questioner, answerer, challenger, and problem solver
Storyteller
Formal Education:
Boston University, BS in Broadcasting and Film, Magna Cum Laude, 1989
University of Rochester, History and Political Science, 1984 – 86
Informal Education:
Life, 1967 – present
Holy Spirit Education:
New life, 1995 – eternity
Contact Chaim:
CLICK HERE (we're told it connects directly to Chaim's brain)